2022 NATIONAL CONVENTION
Denver, CO
June 23 – 26

We invite League members to our biennial national gathering to be held in Denver, CO and online in 2022.
Helpful Information
LEARN MORE>>
2021
September 27
Voter Registration was done at SUNY RCC on National Voter Registration Day. We also provided forms to collaboratives- Spring Valley, Haverstraw and Nyack to be distributed with food.
October 6
Live meeting in Nanuet Library – Water Concerns in Rockland County
October 26
Rockland County Executive Candidates Forum on Zoom
2022
January 27
Brunch & Greet meeting on Zoom
February 26
Black History month, & Diversity Brunch on zoom
March 26
Women's History month, Women in Educational Administration on zoom
April 20
Live meeting in Valley Cottage Library-Administration of Elections & Voting for Felons, both Concurrences
May 10
Pearl River School Board Candidates' Forum, live
May 16
Water presentation about PFAs in our Water on zoom
May 27
Lobbying with Senator Elijah Reichlin Melnick
June 27
Annual Meeting talk by Linda on Rockland Redistricting.
June 9, 29 & 30
Testifying at local Redistricting Forums for the County legislature & will again in August when the new maps are presented.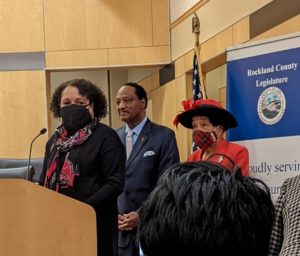 On Wednesday, February 16th, the Rockland County Legislature celebrated Black History Month by honoring several outstanding individuals including our new member, Doria Hillsman.  Congratulations Doria!
VIEWPOINT: LEAGUE OF WOMEN VOTERS IS POLITICAL NOT PARTISAN
Monica M. Seebode
President, LWV Saratoga County
Oct. 27, 2021